The live BABYDOGECOIN Price today is $3.54e-9 USD with a 24-hour trading volume of $46,435,240 USD.Get detailed price news, burns, twitter news, analysis and more on Memecoin Exchange.
BABYDOGECOIN is a hyper-deflationary token designed to become more scarce over time. BabyDoge's primary utility is "building a fun meme community to spread awareness of animal adoption".BABYDOGE is the number 1 Meme built on BNB! Saving dogs, Farming, AMM, swapping & staking.
BabyDoge will be listed on @BiconomyCom
Biconomy is a global digital asset trading platform with 350K+ verified users in 100+ countries. The biconombiconomt community tweeted on it's official Twitter account that they will be adding BabyDogeCoin to the list of assests supportedsupported and you'll be able to enjoy up to 6.86% high Earnings.
🚀 #Biconomy Earn – Newly launched #BabyDoge, APR up to 6.86%!🚀
#BiconomyEarn will add @BabyDogeCoin to the list of assets supported🚀
🔥Enjoy up to 6.86% high Earnings🔥
Full Details👉 https://biconomy.zendesk.com/hc/en-us/articles/15610274164121-Biconomy-Earn-Newly-launched-BabyDoge-APR-up-to-6-86-
#BIT #Crypto #CryptoMarket #Staking #BabyDogeArmy #Cyptocurrency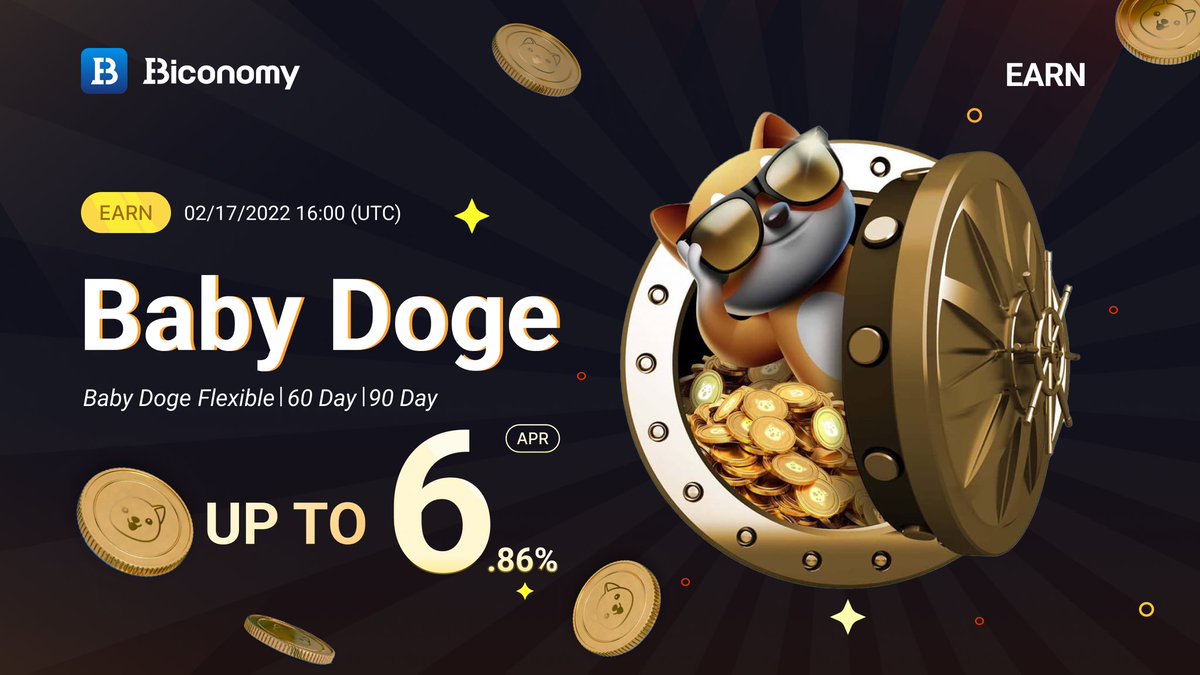 Originally tweeted by Biconomy 🌐 (@BiconomyCom) on February 16, 2023.
BabyDoge is continuously trending on Binance Top crypto list.The Burn Portal is now LIVE and you can burn your BabyDoge for lower buy fees at babydogeswap.com/burn-portal.The burn portal that allows its holders to burn, or eliminate from supply by sending it to a dead address.The BabyDoge community will burn 5 tokens for every token burned on the portal through April 1st!The BabyDoge community also shared a how-to video of the New Burn Portal.
BabyDoge just passed $85million+ TVL a new all time high on BabyDogeSwap.com.Due to the epic rise in BabyDoge's price Farm APRs have increased a lot. BabyDoge is the top Highlight BNBCHAIN Project with the Biggest Community on Twitter.
Related Reading : BabyDogeCoin | BabyDoge Surged Nearly 20% Over The Past Week
Social engagement of BabyDogeCoin has seen an incredible surge of 7800%, reaching 7.35 million social mentions in 2022. BabyDogeCoin has continued to outpace Shiba Inu in terms of the number of holders, with a growing and passionate community dedicated to its success.
Related reading : BabyDogeCoin | BabyDoge Continues To Trend On Binance Top Crypto List
BabyDoge's weekly update:
BabyDoge in the top 100 coins on CoinGecko.Ranking 92.
Babydoge passed ShibaSwap in TVL.
BabyDoge trending as number 1 on Binance.
OKX,MEXC,LBANK,BITMART Giveaways.
itkeep DAPP Integration.B
Burn Portal launch date Released.
Trending search on CoinGecko.
Math Wallet DAPP Integration.
New DAO proposal live.
Ruff Heaven Impact Video.
All Time High TVL 60.57M.
OKX Wallet Integration and Discovery page.
Daily Volume ATH at 7.5M at BabyDogeSwap.
BabyDogeCoin and BabyDogeSwap trending on Twitter.
BABYDOGECOIN BURNS AND HOLDERS :
In the past 24 hours,29,118,243,788,969.24 (~$103,835.66) BABYDOGE tokens have been burned. So far,202,862,259,616,743,968.00 (~48.301%) BABYDOGE tokens have been burned from the total supply of 420,000,000,000,000,000.
Also 1,681 new holders joined BabyDoge Community in the last 24 hours and now the total number of holders of BabyDoge stands at 1,695,597.
What is BabyDogeCoin ?
Baby Doge Coin (BABYDOGE) is a BEP-20 meme cryptocurrency built on BNB Smart Chain as a spin-off from the popularity of Dogecoin. Created by the vibrant Doge community, the token is seen as an improvement over Doge in terms of speedy transactions and a hyper-deflationary design to ensure scarcity.
Furthermore, Baby Doge has launched Baby Doge Swap to facilitate token swaps and increase the utility of its native token. The project has also launched its Baby Doge NFT collection. BABYDOGE has an all-time high (ATH) of $0.000000006345 , recorded on Jan 17, 2022.
Memecoin Exchange is the biggest Crypto Community which helps projects in sharing views to millions of people.The biggest Community writing Web3 platform used by 100+ Big Projects.Its very easy to promote your article on Memecoin Exchange absolutely free.