The live BABYDOGECOIN Price today is $2.29e-9 USD with a 24-hour trading volume of $14,262,663 USD. Get detailed price news, burns, twitter news, analysis and more on Memecoin Exchange.
BABYDOGECOIN is a hyper-deflationary token designed to become more scarce over time. BabyDoge's primary utility is "building a fun meme community to spread awareness of animal adoption".BABYDOGE is the number 1 Meme built on BNB! Saving dogs, Farming, AMM, swapping & staking.
BabyDoge DEX Is Now A Part of the De.Fi Dashboard!
De.Fi provides unified data for the most popular DeFi protocols via an intuitive interface or flexible API. BabyDoge DEX Is Now A Part of the De.Fi Dashboard!The most Extensive Swapping and Farming Protocol! Now you can Manage your Positions with De.Fi if you're staking BabyDogeCoin.
⚡️ Announcing the Integration of the BIGGEST BNB Chain Mascot!
Meet @BabyDogeCoin DEX – Now Part of the http://De.Fi Dashboard! 🔥 The most Extensive Swapping and Farming Protocol! 🚀
Staking on BabyDogeSwap? 👉 Now Manage your Positions with http://De.Fi!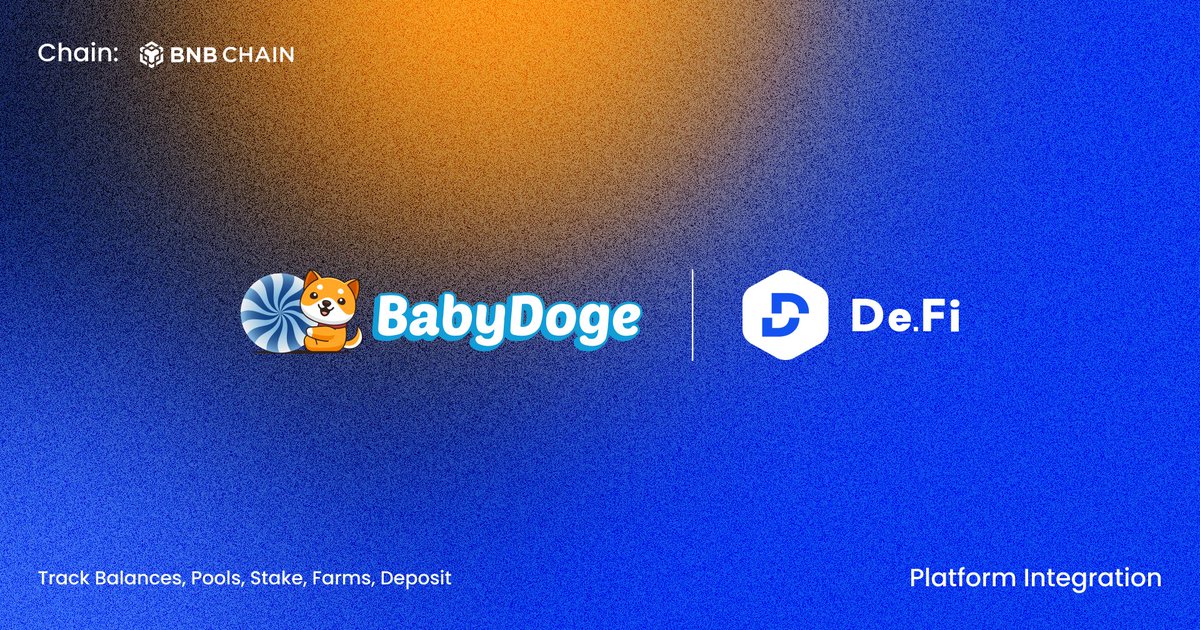 Originally tweeted by De.Fi (@DeDotFi) on March 2, 2023.
BabyDoge is the most held token in BNBChain with over 1.7+ Million Holders. In the past week, BabyDoge has been the most traded Project in BNBCHAIN.Although BabyDoge is not listed on Binance yet, but the Trading Volume performed greatly.
BabyDoge is the Most Trending Cryptocurrency on Binance.com in the last 30 days.It is also the Most Bullish Deflationary Meme Coin in the Last 30 Days.Baby Doge is one of the biggest meme ecosystems in web3, valued at $350 million and expanding at a rapid rate.
In addition BabyDogeCoin have just crossed 1.7 million+ BabyDoge holders!Making babydoge one of the most held memes of all time !BabyDoge is less than 1 week away from the next burn and it is trending on Coingecko.
A new all-time high in TVL on the Baby Doge Swap has reached.In addition 1.8 million followers reached on Twitter.The Burn Portal is now LIVE and you can burn your BabyDoge for lower buy fees at babydogeswap.com/burn-portal.The burn portal allows its holders to burn, or eliminate from supply by sending it to a dead address.The BabyDoge community will burn 5 tokens for every token burned on the portal through April 1st!
Related Reading : BabyDogeCoin | 1 Quadrillion Babydoge tokens worth $2.6 million burned
Social engagement of BabyDogeCoin has seen an incredible surge of 7800%, reaching 7.35 million social mentions in 2022. BabyDogeCoin has continued to outpace Shiba Inu in terms of the number of holders, with a growing and passionate community dedicated to its success.
BabyDoge's weekly update:
Our Weekly Recap is hot off the press 🔥
Originally tweeted by BabyDogeSwap.com LIVE (@BabyDogeCoin) on February 24, 2023.
BABYDOGECOIN BURNS AND HOLDERS :
In the past 24 hours, 9,611,585,765,346.51 (~$21,837.52) Babydoge tokens have been burned. So far 204,070,151,734,525,600.00 (~48.588%) Babydoge tokens have been burned from the total supply of 420,000,000,000,000,000
Also 3,770+ new holders joined Babydoge community in the past 7 days and now the total number of holders stand at 1,706,348.
What is BabyDogeCoin ?
Baby Doge Coin (BABYDOGE) is a BEP-20 meme cryptocurrency built on BNB Smart Chain as a spin-off from the popularity of Dogecoin. Created by the vibrant Doge community, the token is seen as an improvement over Doge in terms of speedy transactions and a hyper-deflationary design to ensure scarcity.
Furthermore, Baby Doge has launched Baby Doge Swap to facilitate token swaps and increase the utility of its native token. The project has also launched its Baby Doge NFT collection. BABYDOGE has an all-time high (ATH) of $0.000000006345 , recorded on Jan 17, 2022.
Memecoin Exchange is the biggest Crypto Community which helps projects in sharing views to millions of people.The biggest Community writing Web3 platform used by 100+ Big Projects.Its very easy to promote your article on Memecoin Exchange absolutely free.